We Are Executive Search
Perfected
The Newport Group is an executive search firm specializing in the recruitment and placement of technical and senior management positions for growth industries across North America. Since 1995, thousands of companies have trusted us to develop the hiring strategies that best help them and their new-hires achieve enduring success. We've perfected the art and science behind executive recruiting, and developed a customizable, efficient search program that enables us to make the right fit at the right time for all of our business partners. And since day one, we've met this significant responsibility with unwavering values:
Quality:
We make sure all that we do is exceptional
Passion:
Mind, body and heart, we are committed to our work
Integrity:
Everything we do is with absolute honesty
DOWNLOAD THESE
ASSETS

TO LEARN MORE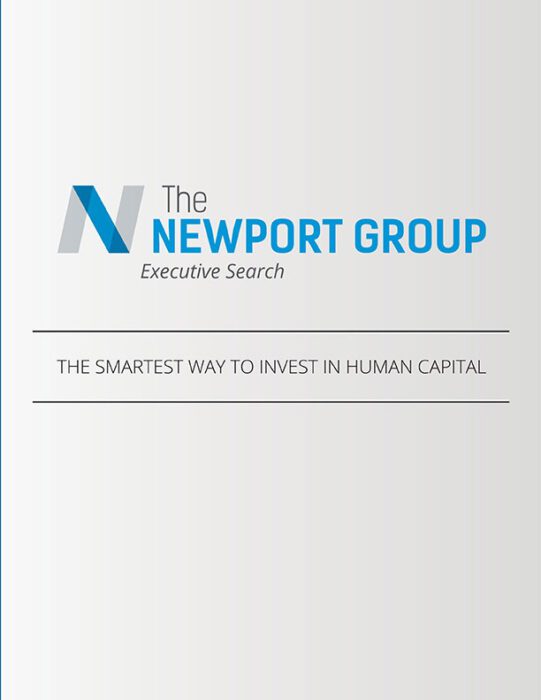 NEWPORT OVERVIEW
Our 8 page company brochure outlining how our organization can help you invest in your most valuable asset, your people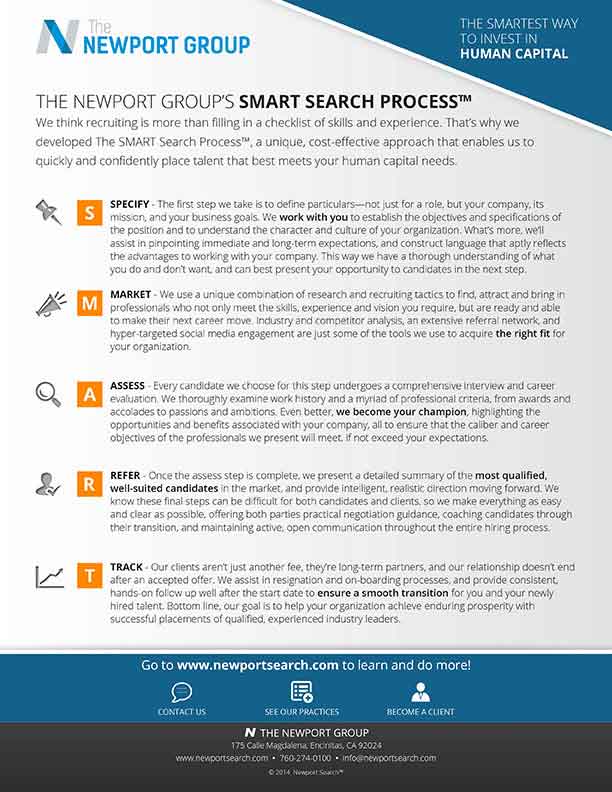 THE SMART SEARCH PROCESS™
An overview of the most cost-effective and comprehensive recruiting program in the executive search business, for you to save, print and share.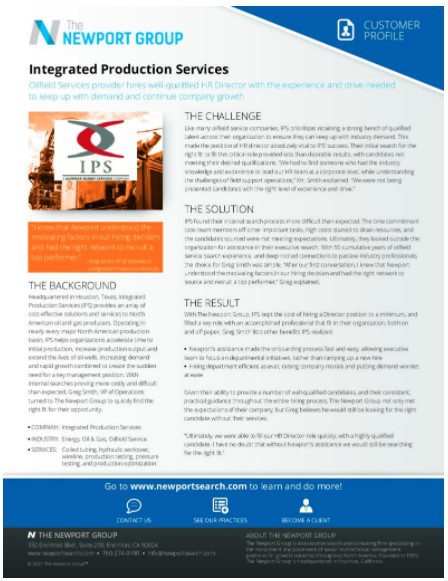 CUSTOMER PROFILE: IPS
Read about how The Newport Group recruited this growing energy services provider an exceptionally well-qualified HR Director.
A
PEOPLE FIRST

APPROACH

TO RECRUITING

The right fit means the right connection at every level. Using our proprietary recruiting program, The SMART Search Process™, our executive recruiters work closely with both clients and candidates to understand their situations from every angle. That's how we make sure skills, goals and passions are aligned, and your placements result in a long lasting, successful relationship for all.
WHAT OUR CLIENTS ARE
SAYING
"I've worked with The Newport Group since 2003 as both a hiring manager and as someone looking for a new position. They do an incredible job of matching potential candidates with new employers. They have a real insight into opportunities you would never have heard of if you hadn't been talking to them."
Brent Johnson
VP OF FORWARD PLANNING, AMERICAN HOMES 4 RENT
"The Newport Group displayed solid knowledge of the industry. They're very much in touch with both customers and clients. I highly recommend working with them, as they understand the needs of all parties involved."
Randy Brown
DIRECTOR OF PROGRAM MANAGEMENT, DAVITA
"The Newport Group is extremely knowledgeable. Fast and responsive, they jump in and work quickly to understand client needs. They're very focused on client service and have been a pleasure to work with, without question."
David Ball
CEO, DMBC GLOBAL, INC.
"Newport provided me with talent that my company needed perfectly, even a BIM coordinator before BIM was the "in" thing!"
Michael J Zari
PROGRAM MANAGER, WALSH CONSTRUCTION
"I would highly recommend The Newport Group to anyone or company who needs to develop their organization. They will deliver exceptional candidates and will always demonstrate integrity to fulfill your requirements."
Rod Uchytil
VP / PROJECT MANAGEMENT, HALLIBURTON
"For The Newport Group, it's all about the professional relationship when forwarding a candidate to a client. They take their time to make the best match happen."
David Knollhoff
SENIOR PROJECT MANAGER, TERRACON
"The Newport team has a strong reputation for integrity, professionalism, customer service, and knowledge in the Homebuilding industry. They understand the business and are able to find quality candidates that match the open position."
Scott Adams
DIRECTOR OF HUMAN RESOURCES, SHEA HOMES